When we become aware that there is another dimension to our existence on planet earth, we start our journey of investigation and learning and growth. It becomes a journey within to learn about my true identity, my purpose here and how this journey can lead me back to Source.
Come along on this very Special evening when we celebrate Shiv Ratri. Let us connect with the special energies of this occassionand find out how to navigate this journey back to Source.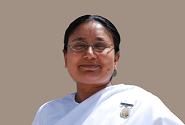 Speaker: Daxa Shah
Daxa coordinates the team at Wembley Inner Space and the outreach activities in Watford and St. Albans. With more than 30 years practice of meditation she balances her organisational skills with determination and honesty.