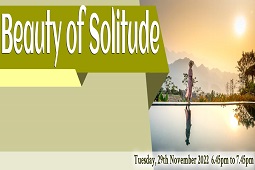 Solitude can sometimes feel like taking a breath of fresh air. It is not being lonely, in fact it is a necessity to hear and listen to yourself, your thoughts beyond all the external noise. It is a method to develop a friendly relationship with the mind. In the beauty of solitude, there is a deeper sense of self-support, self-trust, dignity and an opportunity to clean and clear the mind.
The speaker in this experiential talk will share the benefits and the need for solitude.
Speaker: Nehul Shah
Nehul Shah is a business entrepreneur and optometrist by profession. Interested in spirituality since childhood, his understanding strengthened as he came across the path of Raja yoga meditation over 10 years ago. He has a young family and uses spirituality as the foundation of anything he does. He enjoys using his own personal stories to explain the teachings of Raja yoga meditation. In his spare time he likes playing racket games and sports.