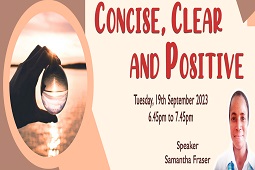 'Short and sweet' forms of communication are welcomed and effective in this age of information overflow and reduced attention span. The seeds for this are our thoughts and intentions.
On the occasion of Positive Thinking Day, join us to learn this art of accurate and compassionate communication.
Speaker: Samantha Fraser
Samantha Fraser has been a primary school teacher for nearly 30 years. Although she was born in London and educated in the UK (Liverpool and Birmingham), Samantha spent 20 years working in different countries in Southern Africa. Samantha has been a Raja Yoga meditation practitioner for 26 years and is currently based at the Global Retreat Centre in Oxfordshire.