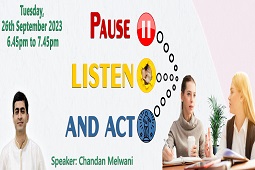 It's age-old wisdom - 'think before you act'. How often are we able to do that? What prevents us from responding rather than reacting? How can we improve our listening skills for our own benefit?
This transformational talk will help bridge the gap between thinking, listening, and acting.
Speaker: Chandan Melwani
Chandan Melwani, is B.E. in Computer Engineering. After working for over 13 years in the IT field, in 2022, he took a break from his work as Project Manager, at Infosys Ltd. to devote full time to the service of humanity. He has been practising Raja Yoga meditation since his young childhood. Currently, he is part of the team at the Global Retreat Centre in Oxford, UK. He facilitates Meditation on a regular basis for people from all walks of life and loves to share the benefits of a meditation lifestyle.