Healthy boundaries are those that are set to maintain a stable mental and emotional state of wellbeing. This raises certain questions. How do I know what my boundaries are? How do I convey my intention to set healthy boundaries? Why do I lack boundaries in the first place?
Our speaker this evening will share some knowledge and ideas and vital skills.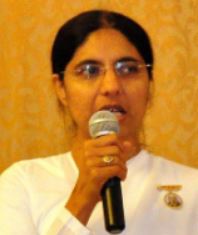 About Speaker: Vaishali Jogi:
Vaishali Jogi is meditation instructor at Brahma Kumaris Meditation Center (San Francisco) and Anubhuti Retreat Center (Novato). Spirituality and the joy of sharing goodness have always been Vaishali's passion. In her teenage years, she used to gather slum area kids and teach them essentials of good living. Since pursuing career as an MBA(finance) last twenty years, she has been offering meditation sessions, self-development workshops, yogic cooking and meditative dance movement classes to people of various faiths and professions at various locations in India and USA including City College of San Francisco where she serves as a principal accountant.